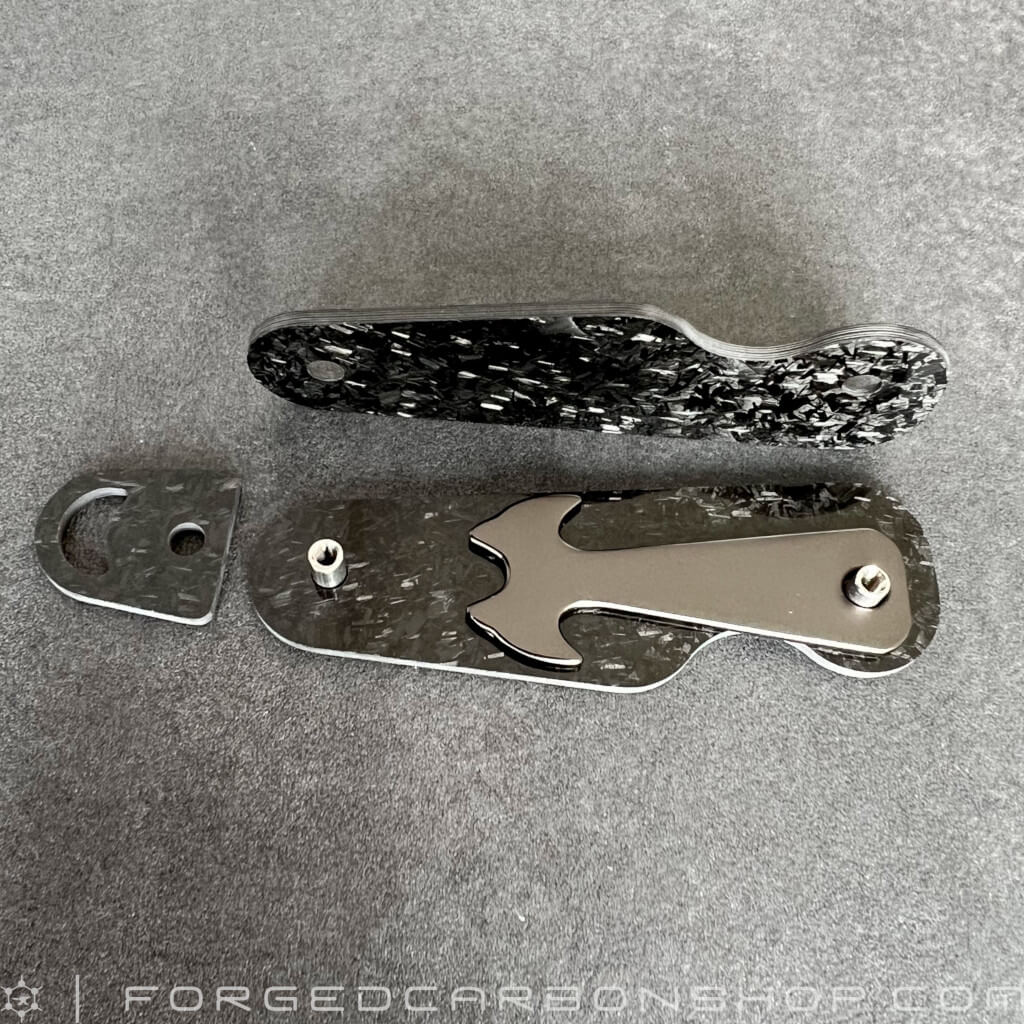 Forged Carbon Key Case
---
Forged Carbon KeyCase for your keys
Unique design made from 100% genuine Forged Carbon - each KeyCase is unique
complete in-house development - all Made in Germany!
fully countersunk screws for a perfect look and feel
Robust, light and practical
Slim and minimalistic design
Holds up to 8 keys
Weight and dimensions:
~18g

| 86 x 34/18 x 10 mm, just as long as the wallet, so that there is enough space for large keys
Do you still have questions about the KeyCase or general feedback? Then contact us using our contact form.
KeyCase made of the special and stylish material forged carbon, which is not only used in the most expensive sports cars , but also ideally suits a modern key organizer due to its properties such as stability, durability, uniqueness and low weight .

And not just to prevent the annoying rattling of a thick bunch of keys.

The KeyCase is a complete in-house development and is also completely produced in Germany!

The goal was to design a protection that is perfect in terms of appearance and haptic and that completely covers most of the common keys.

It was therefore important to find a solution to sink the screw heads fully into the carbon in addition to a lateral key extension, which is based on the one from the Forged Carbon Wallet.

For large/thick keys, such as car keys, there is a Forged Carbon eyelet. Plastic spacers are included to compensate for differences in height and to reduce friction between individual keys.

In addition, stainless steel screws in different lengths are included in the scope of delivery, so that your KeyCase really remains as compact as possible.

Since every key is different, it may take some time until you have found the optimal setup for you. If 2 keys on top of each other get stuck, separate them with one of the spacers provided or try to arrange them differently.

In general, as with all our products, think about what you really need! (The old mailbox key that you forgot to hand in when you last moved is not part of it 😊)

Mount large and frequently used keys on the wide side of the KeyCase (house key goes in the top position).

Small keys, USB sticks or similar or rarely used keys belong on the thin side of the KeyCase.

The FABACH Trolley Key fits on both sides, depending on where there is more space in your case.

Take a look at our assembly video (not yet available ) to get an idea for an optimal arrangement.

Your new KeyCase always stays compact enough to disappear unobtrusively in your pocket/purse, but will draw attention to you as soon as it is used!

Feel free to rate us on Google too!

Shipping time:
Germany: 1-3 days
EU: 2-7 days
USA/Canada: 10-15 days

Shipping cost:
Germany: $0.00
EU: $0.00 over $60 order value, otherwise $8.49
USA/Canada: $0.00 over $120 order value, otherwise $15
Forged Carbon KeyCase, plastic-free in tissue paper + quick instructions for use

2x Allen screwdrivers for (dis-)assembly

2x sleeve nuts - pre-treated with screw lock

Stainless steel screws in different lengths (8,10,12,16,20mm)

Forged Carbon eyelet

Plastic spacers for height adjustment and to reduce friction between keys

High quality paper box and outer packaging. Everything without plastic!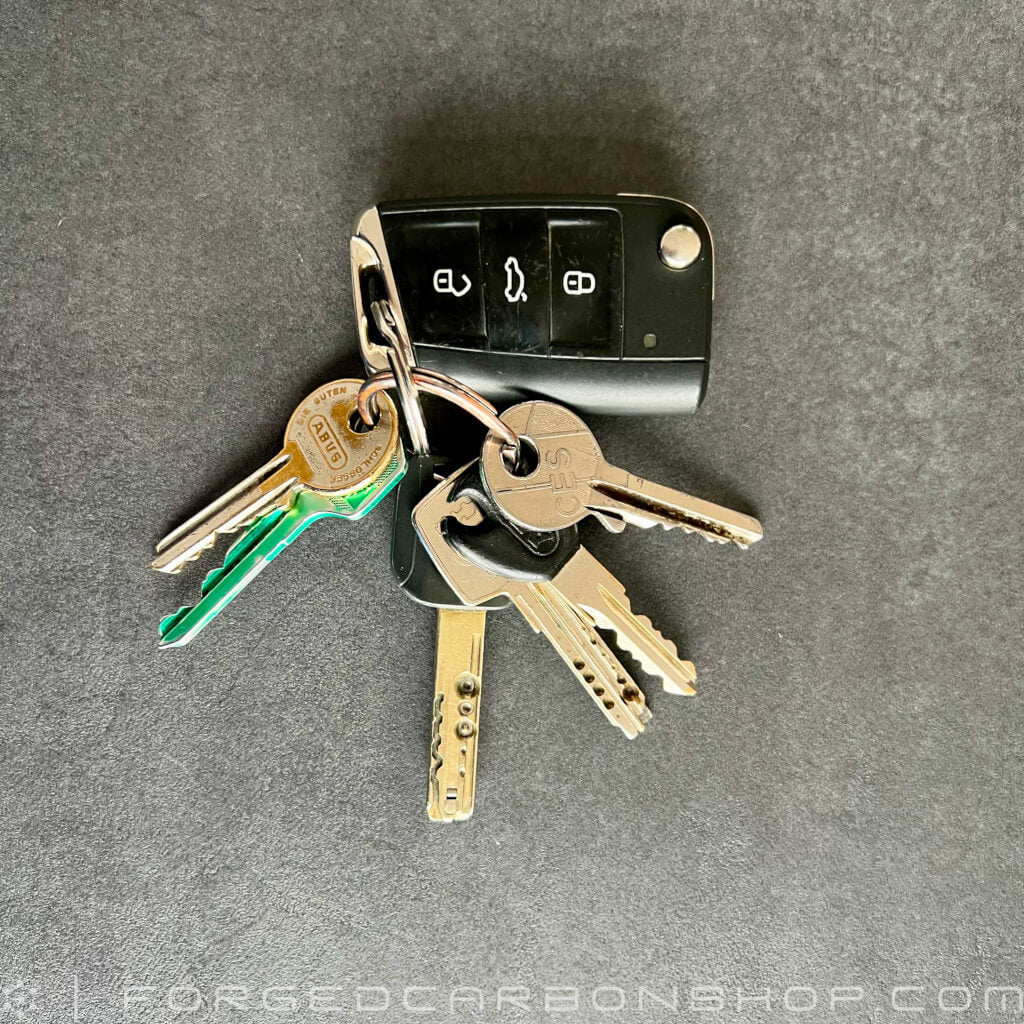 Before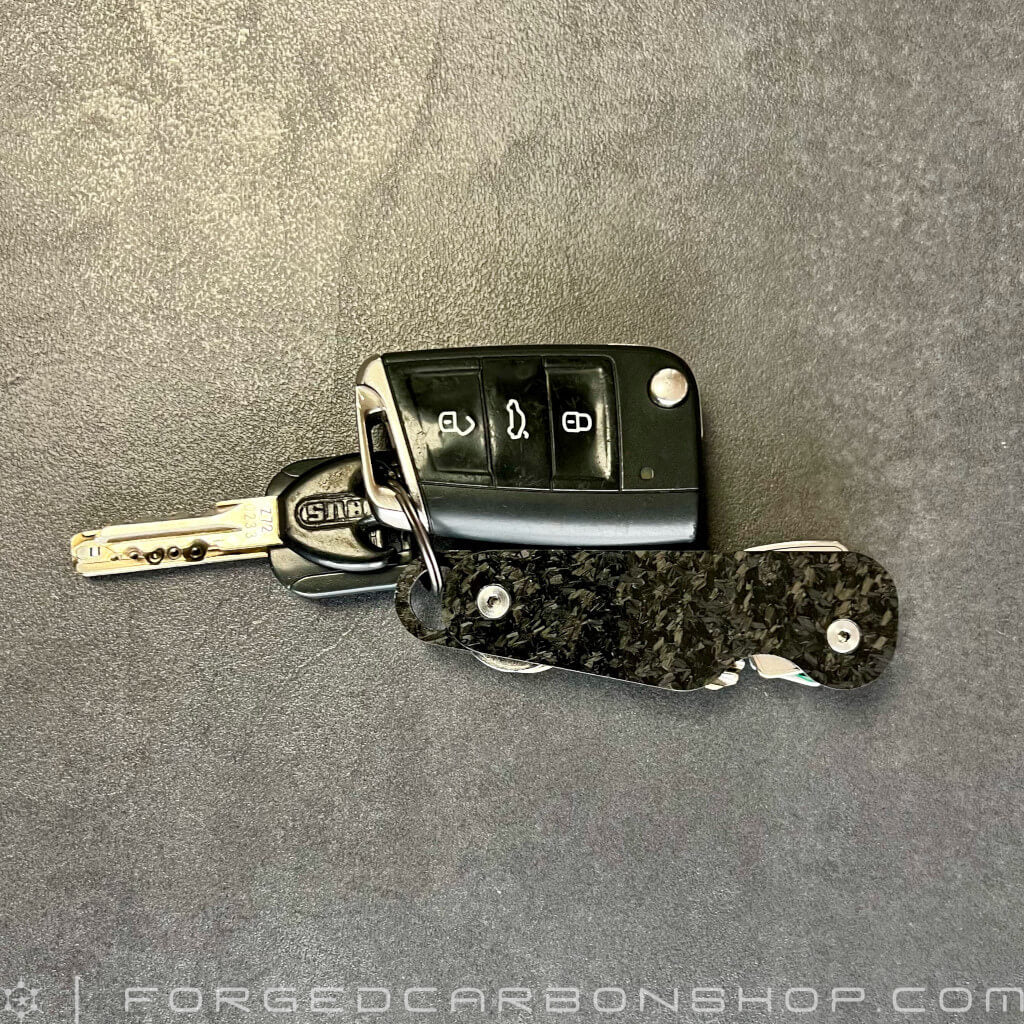 After
Forged Carbon Key Case
Kann ich uneingeschränkt weiterempfehlen.
Mein Handling ist unglaublich angenehmer geworden.
Nie wieder ohne, sehr praktisch und einzigartig!
Das Positive zuerst:
Das KeyCase sieht mega aus! Die Bedienung ist intuitiv und funktioniert einwandfrei - vorausgesetzt man gibt sich beim Zusammenbau Mühe.
Womit ich beim nicht ganz so positiven bin....der Zusammenbau ist wie beschrieben wirklich nicht ganz einfach bis man die richtige Schraubenlänge für seine Anzahl an Schlüsseln gefunden oder alle Distanzscheiben an einer sinnvollen Stelle hat.
Dafür jetzt einen Stern abzuziehen wäre aber nicht fair, da nur durch die komplette Variabilität ja auch alle möglichen verschiedenen Schlüssel reinpassen.
Alex war hier wirklich sehr hilfreich und hat mir umgehend ein paar Tipps gegeben nachdem ich ihm Fotos meiner Schlüssel gesendet habe.
Alles in allem ein tolles und durchdachtes und unglaublich stylisches Produkt.
Danke!
Ich liebe meinen Key Organizer jetzt schon
Was für eine stylische Möglichkeit, meine Schlüssel kompakt, klimperfrei und sicher zu verstauen! Das Zusammenbauen war für mich (weiblich und Ende 60!) so logisch, dass ich es spielend geschafft habe. Eine Erklärung brauchte ich nicht! Der Organizer liegt super in der Hand und passt prima in die Hosentasche.... Ich werde dank der abgerundeten Kante bestimmt kein Loch davon in der Tasche bekommen, genau wie beim tollen Wallet von Forged Carbon! Heute geliefert und schon im Einsatz!
Habe mich übrigens für "matt" entschieden, damit es gut zum Wallet passt.
Kann ich nur wärmsten weiterempfehlen!
Versand, wie immer prompt, umweltfreundlich verpackt und mit allem, was zum Zusammenbauen gebraucht werden könnte.
Ganz lieben Dank, Alex
Bin begeistert!
Ich hatte Gelegenheit den finalen Prototyp des Forged Carbon Key Case zu testen. Wenn man das richtige Setup für seine Schlüssel gefunden hat, fragt man sich wie man es all die Jahre überhaupt mit einem klassischen Schlüsselbund ausgehalten hat!
Liegt super in der Hand, sieht mega aus und man findet intuitiv immer den richtigen Schlüssel.
Zudem klimpert nichts mehr und der Key Organizer passt super in die Hosentasche ohne sie zu durchlöchern.
Danke, dass Du die Ergebnisse deines Tests hier öffentlich teilst! ;-)
Das Key Case darfst Du natürlich behalten! Ich hoffe es wird Dir lange Zeit Freude bereiten!
Viele Grüße
Alex