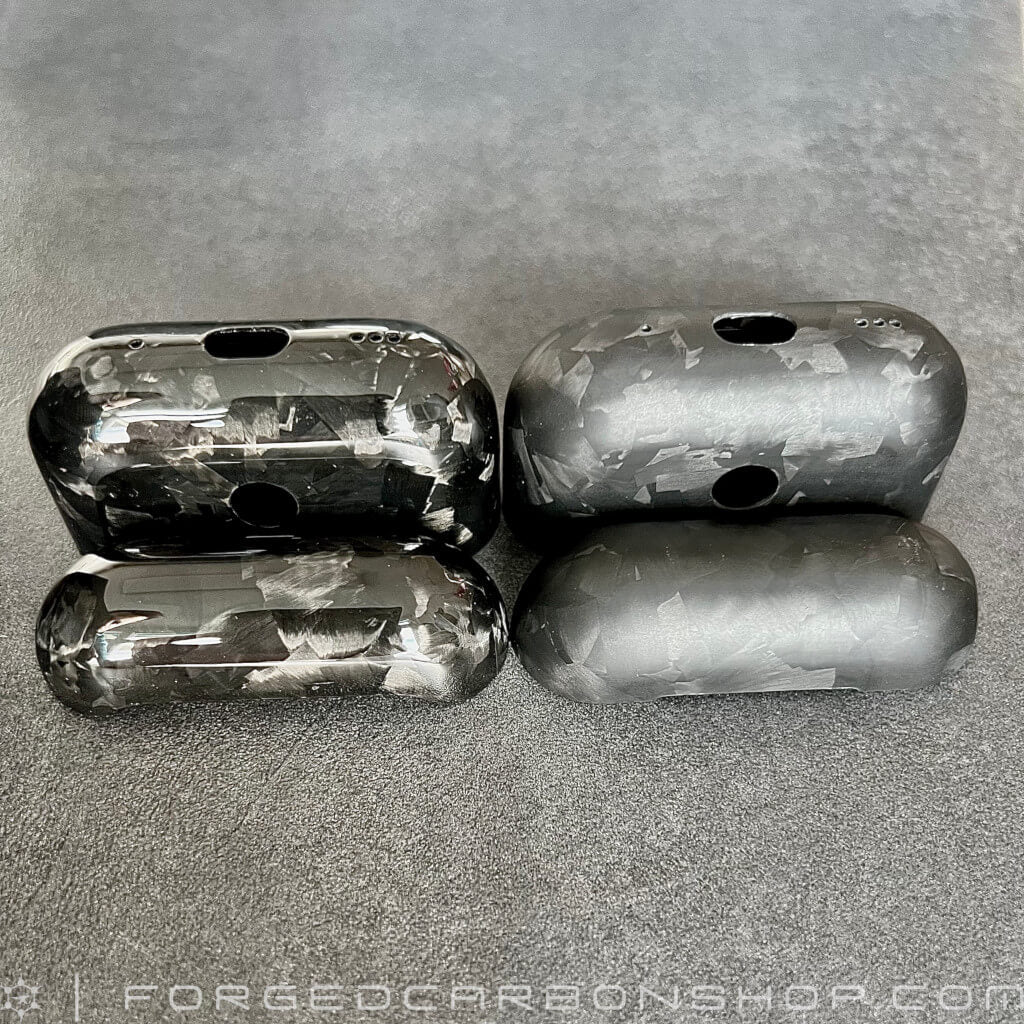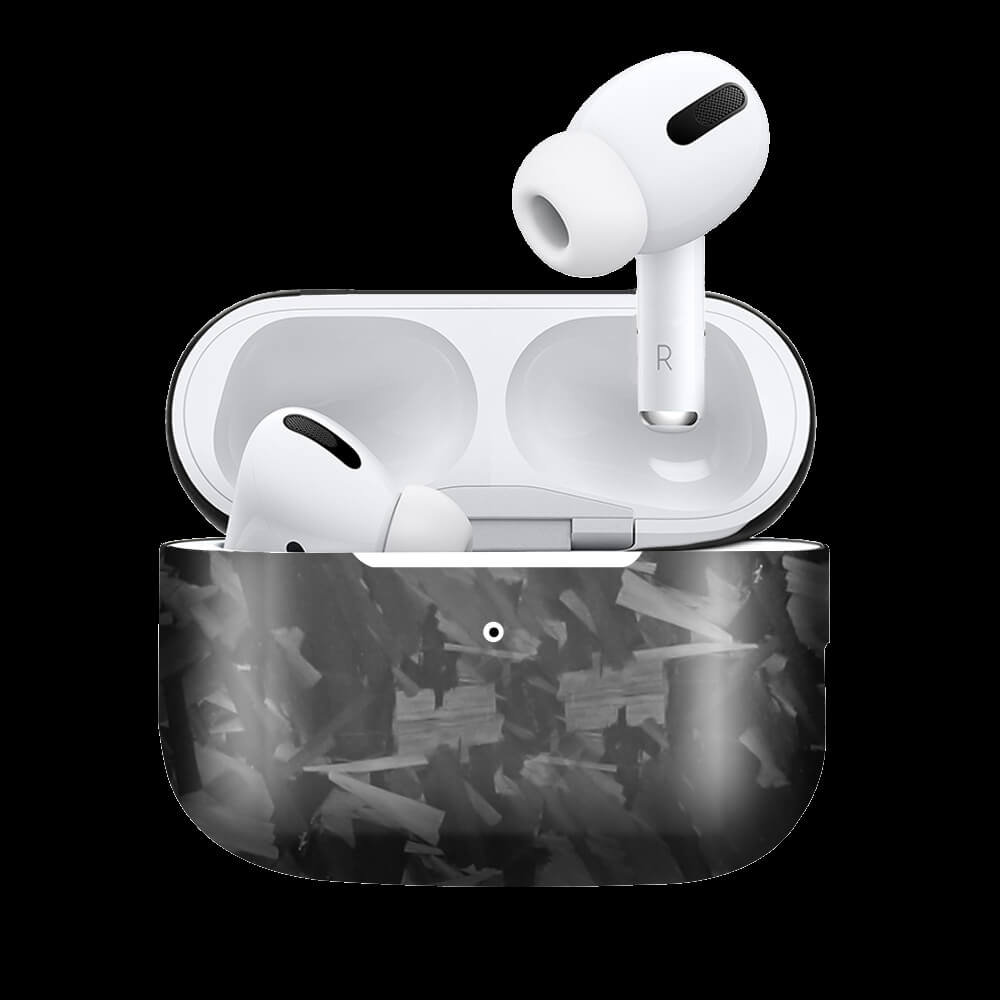 Forged Carbon AirPods Pro 2 Case (Schutzhülle)
---
Forged Carbon Case for your latest generation Apple AirPods Pro® 2
Exclusive design made from 100% real forged carbon - each case is unique
deliberate omission of a company logo on the case to see even more carbon
in high gloss and matt
Effective protection against scratches
Slim and minimalistic design
Easy access to all ports and the eyelet in the original charging case
No interference with wireless charging or Bluetooth
Weight and dimensions:
Do you still have questions about the AirPods Pro® 2 Case or general feedback? Then contact us using our contact form .
Unfortunately, even the most expensive AirPods are not spared from scratches and dents in everyday life, fortunately we now have a stable and optically unique solution!

A case made of the special and stylish material Forged Carbon, which is not only used in the most expensive sports cars , but also ideally suited for a high-quality in-ear headset such as the Apple AirPods Pro due to its properties such as stability , durability, uniqueness and low weight .

Our case is ultra-thin so that the great feel of the AirPods Pro is retained and of course all the original ports, buttons, speakers and the eyelet for attaching a strap are still easily accessible.

Even with the Forged Carbon Case, which is quick and easy to install, your AirPods remain fully functional and are not limited when using Bluetooth or wireless charging.

Feel free to rate us on Google, too!

Shipping time:
Germany: 1-3 days
EU: 2-7 days
USA/Canada: 10-15 days

Shipping cost:
Germany: $0.00
EU: $0.00 over $60 order value, otherwise $8.49
USA/Canada: $0.00 over $120 order value, otherwise $15
Forged Carbon AirPods Pro

®

2 Case

High quality paper box and outer packaging. Everything without plastic!

The Apple AirPods Pro

® itself are obviously not included :-)
AirPods Pro 2 Case Carbon matt
Schnelle Lieferung; sehr passgenau; sehr sauber verarbeitet; Ausschnitte für Ladeanschluss, Trageschlaufe, LED und Pairingbutton an genau den richtigen Stellen; sehr zu empfehlen
Klare Kaufempfehlung
Super verarbeitetes Airpods Case. Das Aussehen ist eine klare 10/10, die Lieferung ging schnell und unkompliziert. Das Case ist dünn, leicht und extrem stabil. Echt Carbon lohnt sich zu 100%! Es hat eine klare Daseinsberechtigung
Hi Nicolas,
Vielen Dank für das tolle Feedback, schöner hätte ich es selbst auch nicht schreiben können:-)
Viele Grüße
Alex
10/10
Ich habe das Case eben ausgepackt und war sofort begeistert. Aussehen 10/10, Lieferung 10/10, ach egal, einfach perfekt. Das Case trägt kaum an Dicke auf und gewichtsmäßig schon gar nicht. Der einzige und wirklich einzige Minuspunkt ist der Ausschnitt für die Taste zum koppeln, aber das ist nur meine persönliche Meinung. Wer sich überlegt dieses Case zu kaufen, dem kann ich nur sagen, du wirst es bereuen wenn du es nicht tust. Ich hatte schon andere Cases, die kostentechnisch um ein Vielfaches günstiger waren und das hat man auch gemerkt, klar sind 59,99€ (in meinem Fall 49,99€) nicht günstig, aber es lohnt sich alle Mal. Absolute, 100%ige Kaufempfehlung.
Hi Christopher,
Vielen Dank für Deine positive Rückmeldung! Freut mich, dass Dir das Case gefällt!
Sende mir gerne noch ein paar Details, was Du am Ausschnitt für die Taste zum Koppeln ändern würdest, vielleicht ja etwas das ich für künftige Versionen berücksichtigen kann?
Danke und viele Grüße
Alex
Beautiful Crated Airpods Pro 2 Case
I received this case this morning and promptly fitted it. The case as mentioned above is very thin so it does not add any appreciable bulk. The cutouts for the LED and pair button are precise. It has a very tactile and smooth finish. In bright lighting it shows off a really pleasing pattern, it looks as though crystals of carbon have formed. I would recommend this case to anyone.
So wie es sein sollte!
Angefangen vom öffnen des Pakets bis zum Produkt war alles wie gewünscht, das Case ist in einer coolen Carbon Style Verpackung drin, die sich im Regal noch schön blicken lässt. Man sieht und spürt, dass es sich nicht um ein Dropshipping Massenprodukt handelt, es ist 100% Passgenau und die Öffnungen sind mit gleichmäßigem Abstand ausgeschnitten, ein echter Hingucker und Must-Have für jeden Carbon Liebhaber👌🏽
Hey Luca,
1000 Dank für Deine nette Bewertung und die Fotos!
Ich hoffe Du hast lange Freude an Deinem neuen Forged Carbon Case!
Viele Grüße nach Österreich!
Alex